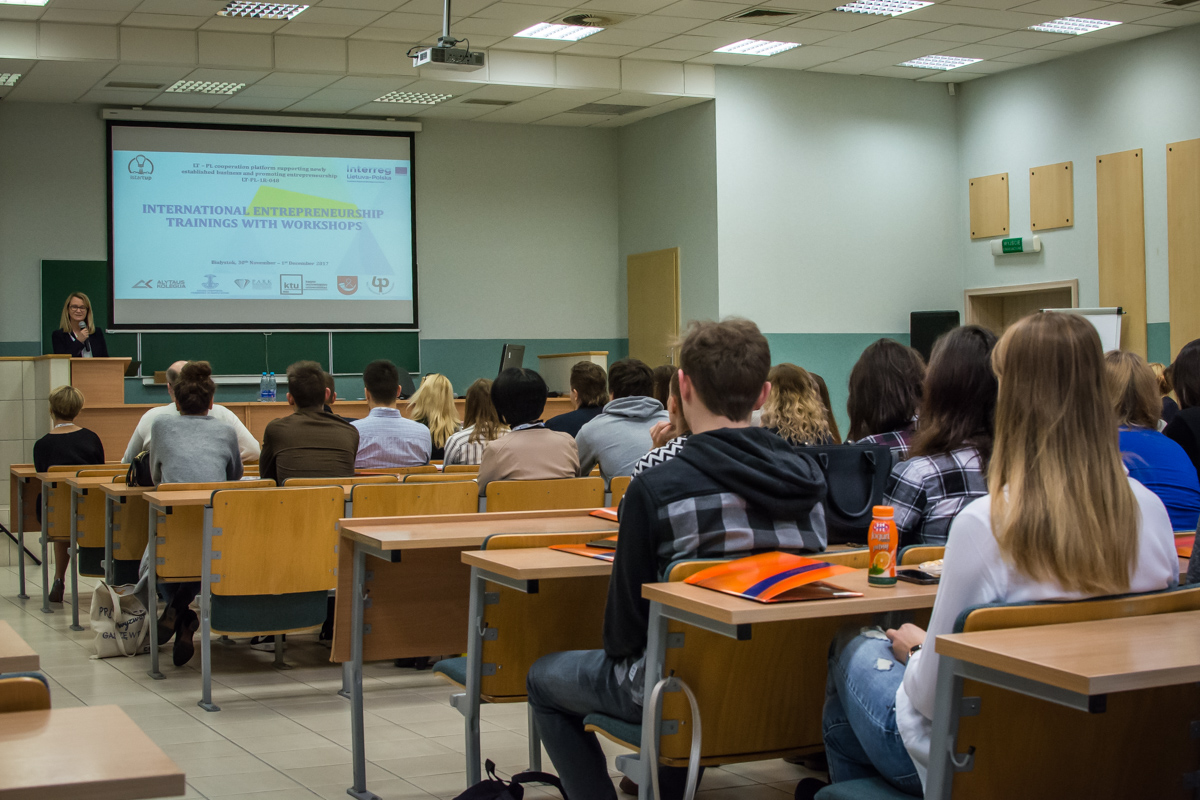 International entrepreneurship trainings with workshops
Dziś rozpoczęła się dwudniowa konferencja International entrepreneurship trainings with workshops. Konferencja i towarzyszące jej warsztaty będą obejmowały następujące zagadnienia: badania rynkowe, walidacja modeli biznesowych, wchodzenie startup'ów na rynek, modele finansowe, poszukiwanie źródeł finansowania startup'ów. Wydarzenie kierowane jest do studentów Wydziału Inżynierii Zarządzania oraz młodych przedsiębiorców, którzy potrzebują merytorycznego wsparcia w rozwijaniu swojego biznesu.
Międzynarodowa konferencja będzie prowadzona w języku angielskim.

Two days trainings and workshops at Bialystok University of Technology.

The conference and its accompanying workshops will cover the following topics: market research, validation of business models, financial models, search for sources of startup financing. The event is addressed to students of the Faculty of Engineering Management and young entrepreneurs who need substantive support in developing their business.
English is the official language of the international conference.
Pierwszego dnia ekspertem jest:
Andrzej Kusmierz, Ph. D.
Warsaw University Management Department graduate,
Assistant Professor in Strategy Department at the Kozminski University and member of the Top500 Innovators program at the Stanford University.
Since 2000 he gives lectures, provides trainings and acts as a consultant on business models, leadership and e-business strategies. He supervised over 100 Executive MBA and Kozminski MBA dissertation projects related to startups, strategy implementation, organization and business models restructuring.

He focuses on supporting innovation in science (i.e. lifescience, chemistry, new materials, energy, engineering and IT) by cooperating with scientists interested in changing their ideas into businesses. Works with chosen funds and business angels.

Coach and mentor in the International Startup Contests i.e. Challenge Up (Intel&Cisco&TMobile), Intel Business Challenge, Intel Global Challenge and acceleration program WARP by Hub:Raum (Deutsche Telekom).

Leader and Co-founder of the Warsaw Technology Accelerator WAW.ac (partnership with Innogy, Intel, TMobile, Microsoft and Adamed). Founder of Idea2Business (PreSeed Fund) and TTRQ.pl - platform for private investors (Business Angels). 
Jutro ekspertem będzie:
Michał Korba
Business Model Canvas will be explained on 1st December by Michał Korba, head of Sales in UserEngage.com a marketing automation platform, Chief Everything Officer and CO-Founder in iWisher.pl a gift funding application. For more than 6 years he was a head of an interactive section in advertising agency Vena Art. He gathered experience as a junior PR consultant and as a marketing specialist in an entertainment center. Fanboy of Apple products, a passionate and theoretician of the Internet. Trainer in Startup Academy and lecturer in a few Universities in Poland (AGH University of Science and Technology in Cracow, Lublin University of Technology, WSB University in Katowice). Practician term of online marketing and sales.